Difference between revisions of "DE:Fountain of Wealth"
From Tycoon Gaming
---
Latest revision as of 15:21, 30 June 2020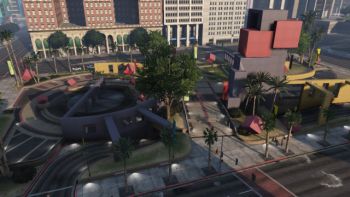 Der "Brunnen des Reichtums"

Ist ein Ort, um sein Geld mit jedem Spieler zu teilen. Er befindet sich an der Legion Square in der Innenstadt von Los Santos. Wenn du dich zu reich fühlst kannst du dein Geld in $2.500, $10.000, $50.000 oder $250.000 -schritten spenden. Wenn du nur ein bisschen mehr Geld benötigst, kannst du hierher kommen und Bargeld in $500 -schritten einsammeln, soweit der Brunnen noch nicht leer ist.
Rund um den Brunnen kannst du auch die Namen, Profilbilder und ein Zitat der beiden Entwickler und der 5 Transport Tycoon Patreons sehen ($50 pro Monat).
Spende
Zahlung / Kosten
Belohnung
Kostenloses Geld
+ $500 (Steuerfrei)
Keine
Kleine Spende
- $2.500
Keine
Mittlere Spende
- $10.000
0.016 Spieler Erfahrung
Große Spende
- $50.000
0.16 Spieler Erfahrung

---

1x Schatztruhe [Low Grade]

Riesige Spende
- $250.000
1.28 Spieler Erfahrung

---

1x Schatztruhe [Medium Grade]