From Tycoon Gaming
De paramedici

van Transport Tycoon zijn levensredders. Het uitvoeren van deze baan zal niet alleen de levens redden van zielige AI, maar zal ook spelers redden die twijfelachtige keuzes hebben gemaakt.
Er zijn 2 hoofddoelen als EMS:
Ontvang oproepen van spelers om ze tot leven te brengen.
Ontvang AI oproepen om ze tot leven te brengen en naar het ziekenhuis te vervoeren.
Beide kunnen tegelijkertijd uitgevoerd worden.
Beginnen als EMS
Ga naar een Job Center  en selecteer de EMS baan.
Koop een EMS voertuig van de Car Dealership  of een helikopter van de Aircraft Dealership .
Optioneel, je kunt een paramedicus uniform verkrijgen bij Pillbox Hospital .
Taak 1: Ontvang oproepen van spelers om ze te doen herleven
Ga naar een Medisch Centrum en koop een paar medische kits in de groene cirkel, deze kosten $150 per stuk.
Wacht tot een speler een oproep doet voor EMS.
Oproepen van spelers verschijnen in de rechterbovenhoek. Druk op F5 om de oproep te accepteren.
Wanneer je de oproep hebt geaccepteerd wordt er een automatisch verzendbericht verstuurd in de chat. Om dit bericht aan te passen, druk op de linker pijl toets op de services optie in de Phone/Services categorie.
(M ► Phone/Services ► EMS/Paramedic: Left arrow key)
Ga naar de locatie van de speler; een GPS-markering zal verschijnen op je map nadat je de oproep hebt geaccepteerd.
Breng de speler tot leven door te drukken op M ► Reanimate.
Gefeliciteerd, je hebt succesvol een oproep voltooid!
NOTITIE: Het is belangrijk dat je alleen naar oproepen gaat die JIJ hebt geaccepteerd en geen oproepen steelt die door andere paramedici zijn geaccepteerd. Oproepen die jij hebt geaccepteerd zijn aangegeven door een wegmarkering op het slachtoffer en je geautomatiseerde EMS bericht die verstuurd is in de server chat. Herhaaldelijk stelen van andere spelers hun oproepen kan resulteren in een kick door een staff medewerker.
Taak 2: Ontvang AI oproepen om ze te doen herleven en vervoeren naar het ziekenhuis
*NOTITIE*: Je moet level 5 strength hebben om AI EMS missies te doen!
Ga naar een van de 10 Paramedicische Stations. EMS Helikopter kan landen op het dak (Als het ziekenhuis een helikopter landingsplatform heeft).
Loop naar de ingang of de hoofdingang op het dak (Voor EMS Helikopter) en druk op E om in functie te treden.
Wacht tot er een automatische oproep verschijnt.
Volg de GPS naar de locatie gemarkeerd op je map.
Druk op E om de AI tot leven te brengen.
De tot leven gebrachte patient stapt in je EMS voertuig.
Ga terug naar het ziekenhuis gemarkeerd op je map met de patient. Om de patient af te zetten moet je met je ambulance in de oranje cirkel rijden of er is een oranje cirkel op het dak om te landen met je EMS Helikopter.
Gefeliciteerd, je hebt succesvol een AI oproep voltooid en zal nu EMS Exp ontvangen!
NOTITIE:
In het geval dat je een AI niet tot leven kunt brengen, de AI is onbereikbaar of de AI zit vast nadat je hem tot leven hebt gebracht. Annuleer de missie door te drukken op M ► Stop Job en ga daarna terug naar het Paramedisch Station om weer in functie te gaan. Zorg ervoor dat je dit meldt via M ► Staff Panel ► Report a bug.
Voertuigen
| Naam | Soort | Prijs | Level vereist |
| --- | --- | --- | --- |
| | Default Ambulance | $10,000 | Geen level vereist |
| | 90s Ambulance | $10,000 | Geen level vereist |
| | Vapid Executioner from GTA IV | $35,000,000 | EMS + Trucking level 100 & Tycoon Premium |
| | Coast Guard variant of Sandking | $35,000,000 | EMS + Garbage level 100 & Tycoon Premium |
| | Ranger | $35,000,000 | EMS + Hunting level 100 & Tycoon Premium |
| | Helicopter | $100,000 | Helicopter Pilot 5 |
| | Helicopter | $35,000,000 | EMS + Helicopter Piloting level 100 & Tycoon Premium |
Lijst van Paramedische Stations en Bedekt Gebied
| Paramedisch Station | Regio Dekking |
| --- | --- |
| Mount Zonah Medical Center | Los Santos |
| Pillbox Hill Medical Center | East Vinewood |
| Central Los Santos Medical Center | Central Los Santos |
| St. Fiarce Hospital | Palomino Highlands |
| Sandy Shores Medical Center | Central San Andreas |
| Fort Zancudo Fire Station | Zancudo |
| Paleto Bay Care Center | Paleto Bay |
| Carson General Hospital | Liberty City |
| Hope Medical College | Liberty City |
| Sweeney General Hospital | Liberty City |
Paramedische Regio's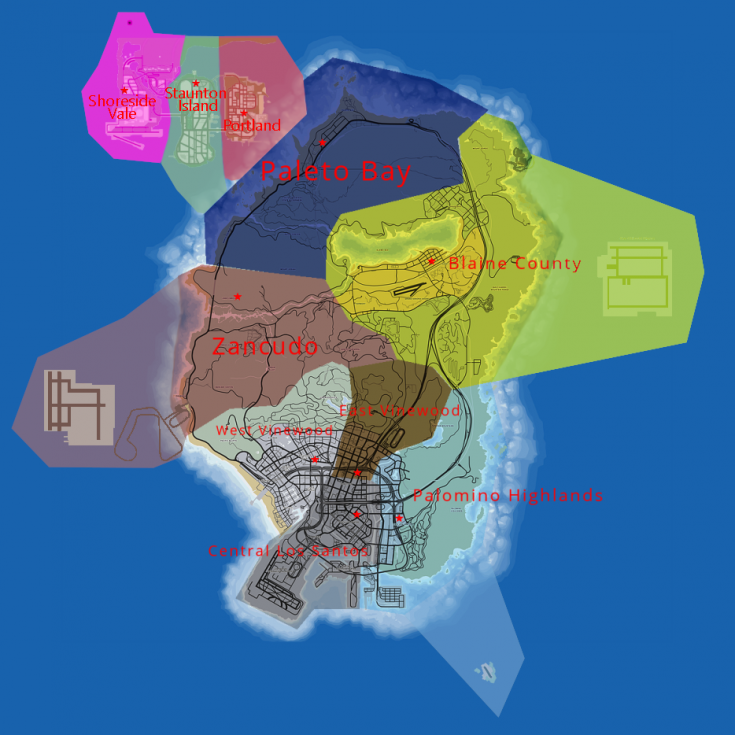 Uitzend Bericht Aanpassen
Om je uitzend bericht aan te passen voor speler oproepen druk je op M, navigeer je naar Phone / Services en ga je naar EMS / Paramedic en druk je op de linker pijl toets. Je hebt dan de volgende opties:
| Code | Antwoord |
| --- | --- |
| #name# | Naam van de beller |
| #id# | ID van de beller |
| #myid# | Jouw ID |
| #code# | Gegenereerde roepnaam |
| #eta# | Eenvoudige geschatte aankomsttijd (bijv: 3 minutes) |
| #time# | Complexe geschatte aankomsttijd (bijv: 2m 59s) |
| #dist# | Afstand tot de beller (bijv: 2.60km) |